How Coronavirus is Affecting Search Engine Marketing?
The Coronavirus pandemic has changed everyone's day-to-day lives and it has put a squeeze on businesses. The outbreak has shifted consumer behaviour and greatly impacted operations of businesses across the world.
We take a look at how the pandemic is affecting Search Engine Marketing.
Drop in PPC Activity
Businesses are understandably looking to reduce advertising spend due to the current economic uncertainty. PPC campaigns can require a sizeable budget, as there is the actual ad spend, which is paid directly to Google, and a management fee for the agency. For these reasons, many PPC campaigns are being paused.
The top 3 positions of Google are usually PPC ads, so even if you are ranking in 1st position your website appears in the 4th available slot in Google's search results (although position 1 Organically receives 32% of the clicks).
Companies stopping their PPC campaigns means that organic search results have more visibility in Google search results.
Google has announced they are giving $340 million in ad credits in order to support SMEs. They are hoping this will help businesses to continue to run PPC campaigns during the pandemic.
Organic Keyword Rankings are an Asset
To grow, businesses need repeatable and predictable routes to market that produce a steady stream of leads and enquires. There aren't many better repeatable routes to market than occupying the top position of Google for keywords that drive relevant traffic to your site.
For 10 years Epic New Media has talked about future-proofing lead and enquiry generation via earning position 1 or 2 rankings within Google search results. We have seen it as being an 'asset' for a business, in almost all cases has this 'asset' has taken between 12 and 24 months to achieve position 1 for the medium to high volume monthly keyword searches that businesses know are searched by prospects with serious intent to enquire and buy.
At this strange time, we have seen these assets go from being a key enquiry generator in our client's overall marketing and sales mix to being the only reliable generator of inbound demand.
Trends in Search Engine Marketing
Coronavirus has understandably changed users search habits. Keyword searches relating to areas such as Travel, Construction and Transportation have taken a hit. While keywords relating to Finance, Groceries, Media and Healthcare have seen an increase in the number of searches.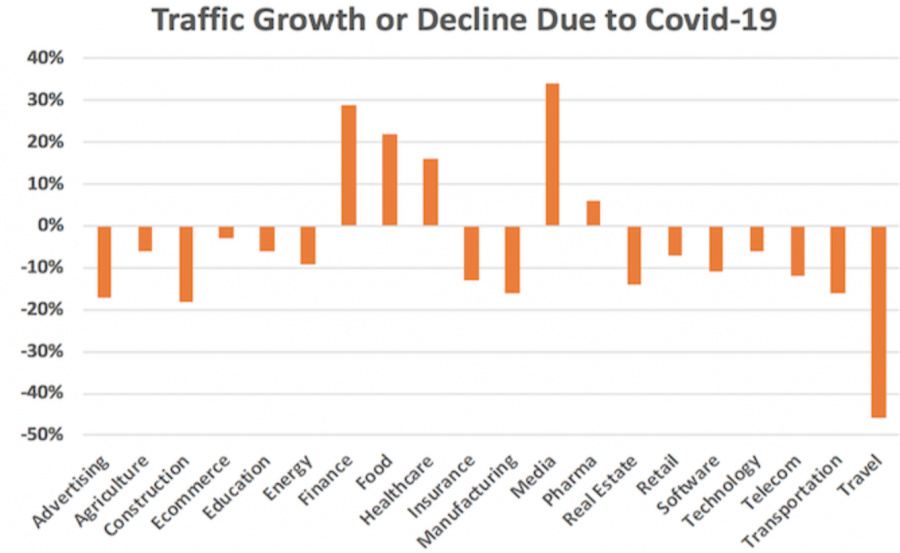 Source: https://neilpatel.com/blog/coronavirus/
There is a lot of uncertainty about what the future holds for Coronavirus and how it will affect people's lives and businesses. However, it is important to identify how to bounce back and generate a repeatable route to market.
Epic New Media has a proven track of success for professional service clients. Get in touch with craig@epicnewmedia.co.uk for a detailed Opportunity Report and Search Engine Marketing Audit.