​PPC and SEO are best combined together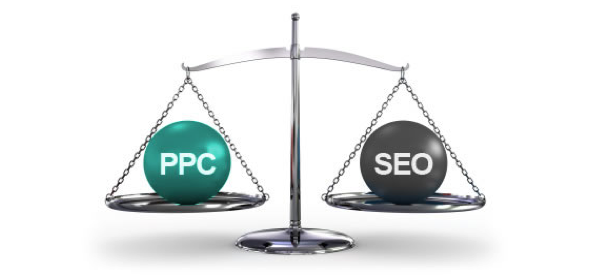 Pay-per-click and search engine optimisation are often thought of as two very different online strategies, which they are. But, many companies only go for one or the other, most usually because they see a greater potential ROI from one strategy. However while these two strategies are different, they actually compliment one other and are best combined together.
To understand why, you first have to understand the advantages to each strategy.
The advantages of PPC
Pay-per-click has the potential to generate targeted and highly relevant leads for your business almost immediately. It's the best strategy for speedy and immediate visibility and it's pound-for-pound more cost-effective than other forms of marketing. The reason for this is that it's highly measurable and guarantees placement and budget flexibility as well as control. It also boasts complete control over accountability and maintainability which is fairly rare online.
If you perform a Google search for 'red shoes for women', you will find that Debenhams is the number one result in Google organic search. It likely cost Debenhams hundreds of thousands or even millions of pounds to get to this position, which is unobtainable for small and medium-sized businesses. But, small and medium-sized businesses and other large brands can compete for the same keyword in the paid listings – large brands like Clarks and lesser-known stores like Hotter, Just Fab, Simply Be, have capitalised on this by bidding for 'red shoes for women'.
So, the biggest advantage to PPC is that it allows underdogs to compete with the top dogs.
The advantages of SEO
Search engine optimisation has the potential to reward your business with long-term traffic which translates to continuous leads and sales. Whereas PPC is a short-term investment to generate targeted and highly relevant leads, SEO is a long-term investment. Organic listings are essentially free – when you have good rankings, you don't have to pay Google to maintain them or budget for advertising. Like PPC, SEO is highly measurable however there's no control over your rankings like with PPC, which is one of the reasons many businesses opt to focus on PPC.
But thinking long-term, search engine optimisation is a better deal than PPC. Google does not reward your website for spending money on AdWords, but it does reward your website for creating relevant high value content and doing your best to create a killer user experience by increasing your organic rankings. The average cost of an SEO campaign is way less than that of a PPC campaign, not least because you're not continuously budgeting and paying for leads.
The advantages of combining PPC and SEO
By combining pay-per-click with SEO, you are investing in the present and the future. PPC is a short-term strategy and solution for generating targeted and highly relevant leads for your business while SEO is a long-term strategy for the same. Both strategies can yield a massive ROI and both can help to establish your business as a go-to for your products/ services online.
Another advantage is credibility. If a searcher sees a paid listing alongside an organic listing, they associate more value with that link, which means your results could be up to twice as likely to be clicked on by the searcher. The power of these two results combined cannot be overstated, and it's something which many big brands including Debenhams enjoy.