Should I be focusing on SEO AND PPC?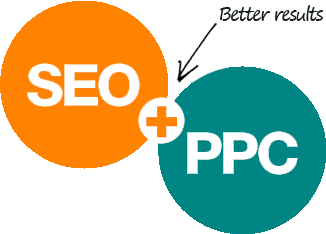 People used to say that pay-per-click was the short-term solution to traffic, while search engine optimisation was the long-term solution. Perhaps, people still do. But a shift in the type of devices people are using to search Google and changes in the way Google ranks sites these last few years has made a case for SEO and PPC being used side-by-side, with a view to a long-term partnership.
Pay-per-click
PPC is one of the most lucrative opportunities for all businesses operating online, no matter their niche or how competitive the market is. In theory, so long as you have the budget, you can compete against multi-nationals and corporate giants.
Search engine optimisation
SEO is a tougher nut to crack. It takes time, patience and significant investment to get solid rankings, rankings that will get a ROI. But should SEO pay off, you will have an auto pilot lead generation platform which has the potential to outperform PPC.
How PPC and SEO work together
1.PPC informs and optimises SEO: Due to the power of each of these platforms, we see them as the perfect partnership. Take for example, this scenario: a start-up in a highly competitive market has a couple of thousand pounds to spend on online marketing. The start-up is at an immediate disadvantage because their website is new, without the clout (trust and page rank etc) of more established competitors. So competing organically is off the cards, at least for now. PPC therefore is the ideal solution, as it will allow the start-up to bid for relevant keywords. But the optimisation of pages for PPC and the bidding of keywords will focus and mould the start-up's SEO strategy at the same time, killing two birds with one stone.
2.With PPC you can offset the price of organic search: SEO rankings receive a higher click through rate than PPC listings. So if an organic position were to decline, businesses can still increase their click-through rate and offset the price of organic search. This strategy is particularly useful for websites that receive an automatic or manual Google penalty, or for websites that struggle to maintain their organic positions due to strong competition. It's also useful if you hold rankings that fluctuate wildly, PPC can balance this out and ensure you still receive very relevant and targeted traffic to your website.
SEO and PPC working together – examples
A Google search for "4K LED TV" brings up an organic result for John Lewis and a paid result for John Lewis (imaged above) – this retail giant is increasing their click-through rates for this keyword by using SEO and PPC together.
A Google search for "Memory foam mattress" brings up an organic result for Amazon and a paid result for Amazon. Like John Lewis, Amazon is increasing their click-through rates.
There are millions more examples of companies doing this.
Takeaway
If you really want to grow your business online, you need to fully capitalise on the platforms available to you. Google is HUGE, and by using SEO and PPC together, you can increase your click-through rates dramatically while informing and optimising each strategy.