The Importance of Good Above-The-Fold Design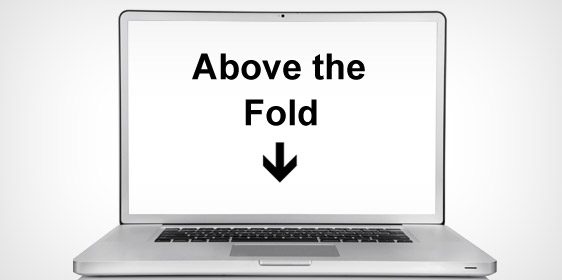 Although the term 'above-the-fold' originated in the newspaper industry, it is critically important for web designers and developers. This ever-present and popular phrase refers to content in the top half of a web page, which can be seen without having to scroll down.
In recent years, there has been a trend towards cramming as much copy and calls-to-action as possible above-the-fold, as Internet users want to access information immediately and tend to make quick decisions. However, there is a danger of overwhelming the audience with too many details.
Even so, good above-the-fold design should be a priority and here's why…
First impressions count
According to research, it takes 50 milliseconds (that's 0.05 seconds) for users to form an opinion about your website. What's more, first impressions are 94 per cent design-related.
Therefore, you could have flawless copy and the perfect product or service, but without quality above-the-fold design, there is no chance potential customers will be sticking around for long. Think about your own experiences online and how easy it is to dismiss a poorly presented website without discovering more.
But it's not just traffic or conversions that can suffer, as 75 per cent of users say they make judgements about a company's credibility based on website design.Just remember, you never get a second chance to make a first impression.
Time is of the essence
It is tempting to include several visually striking images and lots of information above-the-fold, but this could be detrimental to website loading times. This is a big mistake, as Internet users don't stick around if a page takes too long to appear.
Around 40 per cent of people will leave a web page if it takes more than three seconds to load. When you consider that a website bounce rate increases to 100 per cent if a page takes 4 or more seconds to load, then it is clear to see that time really is of the essence.
We live in a world where information needs to be prompt and easy to access, not just when it comes to website loading times, but also with above-the-line content. Accordingly, focus on simple and straightforward design that is quick to appear and understand.
The upwardly mobile movement
Traditionally, above-the-fold design was concerned with a variety of different screen resolutions in order to cater for every kind of desktop and laptop user. However, the popularity of smartphones and tablets adds another dimension to website design.
Now, 48 per cent of people say that if a site doesn't work well on mobile, it is an indication of the business not caring. But those that have developed a mobile friendly site witnessed sales increases of 62 per cent.
An abundance of apps on smartphones and tablets do not require scrolling, as everything the user needs is right there in front of them. The same should be applied to your website too.
Therefore, above-the-fold design remains a matter of great importance and should not be ignored, especially in today's instantaneous online world.